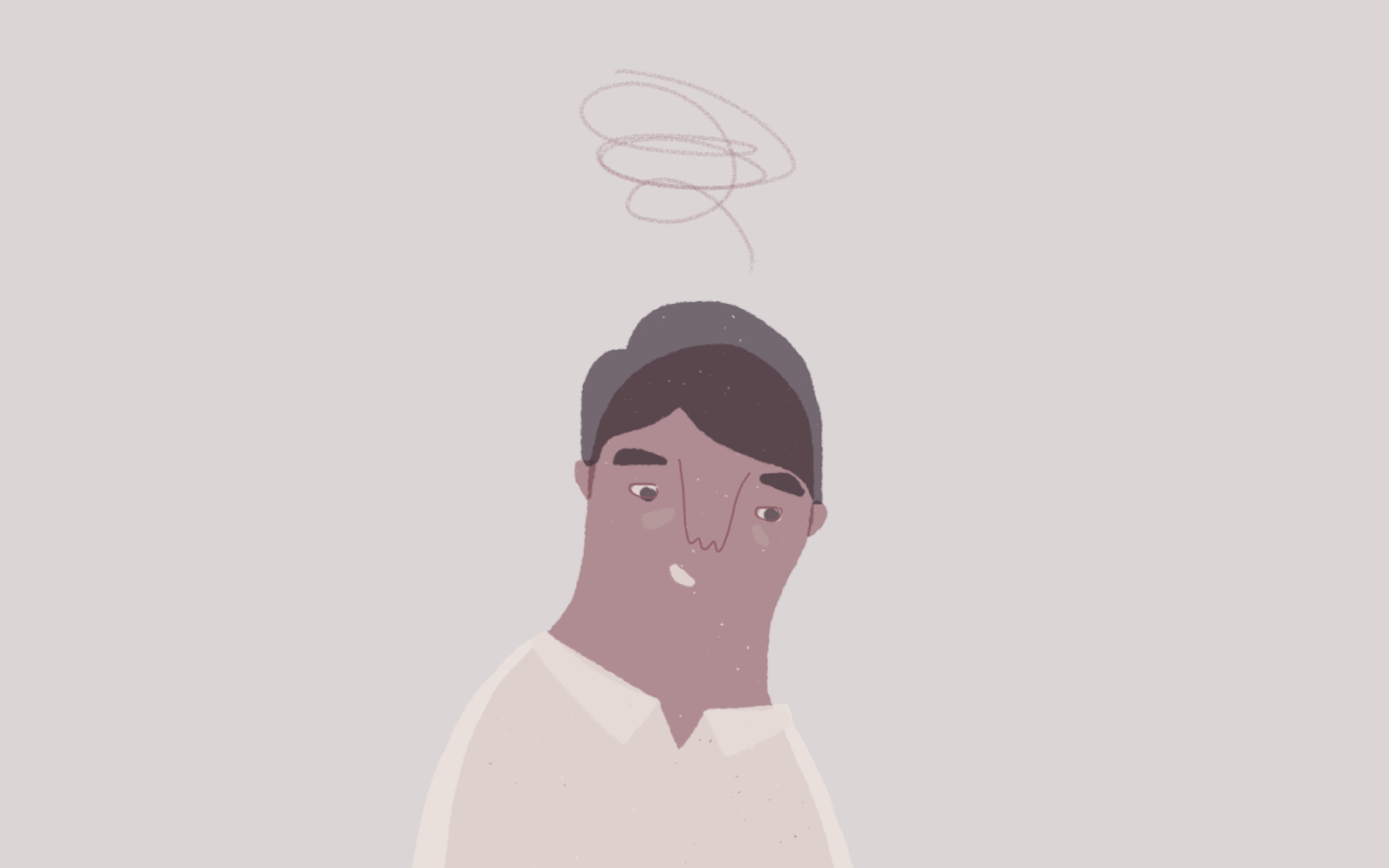 Making 'future proof' career choices
There is a good deal being written, spoken and researched on the future of careers and the world of work - what skills for the future, what foundation to build yourself to ensure employment, what skill sets will be most in demand, what jobs will be replaced by automation, what new jobs will appear, even talk of 'universal basic income'.
So, how do you navigate your own important life decisions and choices? How do you prepare and plan, when at any time the job you thought you were preparing for, looks like it may no longer exist; the job you will have may not yet have been imagined and the job of your future may not even be a single job but rather a mix of opportunities and income streams secured or created in an evolving way?
Well first, it's good to be aware and informed of the changes we are experiencing and to consider how they will impact you and your future.
There are some very interesting initiatives appearing around the world to do with the changes in career and the market place. They all highlight the specialist skills/expertise that is predicted to be most in demand/required and the soft skills that are considered to be critical the future world of work. Here's what is being said around the globe:
Singapore
On the one hand, there is demand for over 42,000 workers specialising in data science, Artificial Intelligence and robotic engineering by 20201…
On the other hand, employers say these are the most essential soft skills they are looking for2: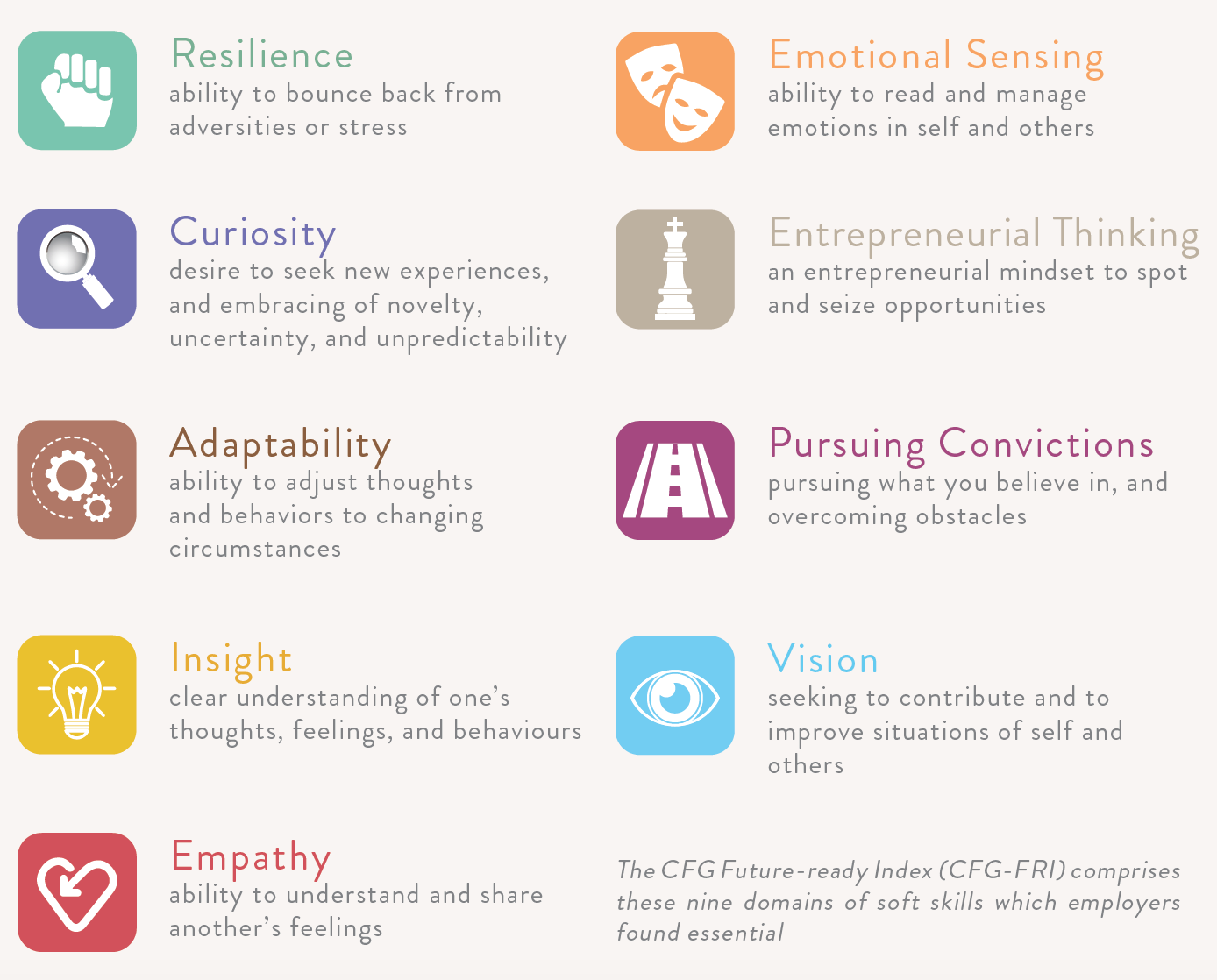 Australia
In research conducted over the last 5 years: Automation, Globalisation and Flexibility are identified as creating the biggest changes. Automation is predicted to radically affect 70% of entry level jobs for young people; jobs are becoming increasingly global, showing 11% of service jobs could be provided from overseas; and the way we work is becoming increasingly flexible, with the average 15 year old predicted, throughout their lifetime, to have: 17 jobs over 5 different careers.3
FYA (Foundation for Young Australians) recommends that: _'Our mindset needs to shift to reflect a more dynamic future of work where linear careers will be far less common and young people will need a portfolio of skills and capabilities, including career management skills to navigate the more complex world of work.
To support young people to navigate these changing labour markets Australia will need to invest to ensure they are innovative, creative and enterprising'._4
And suggest that: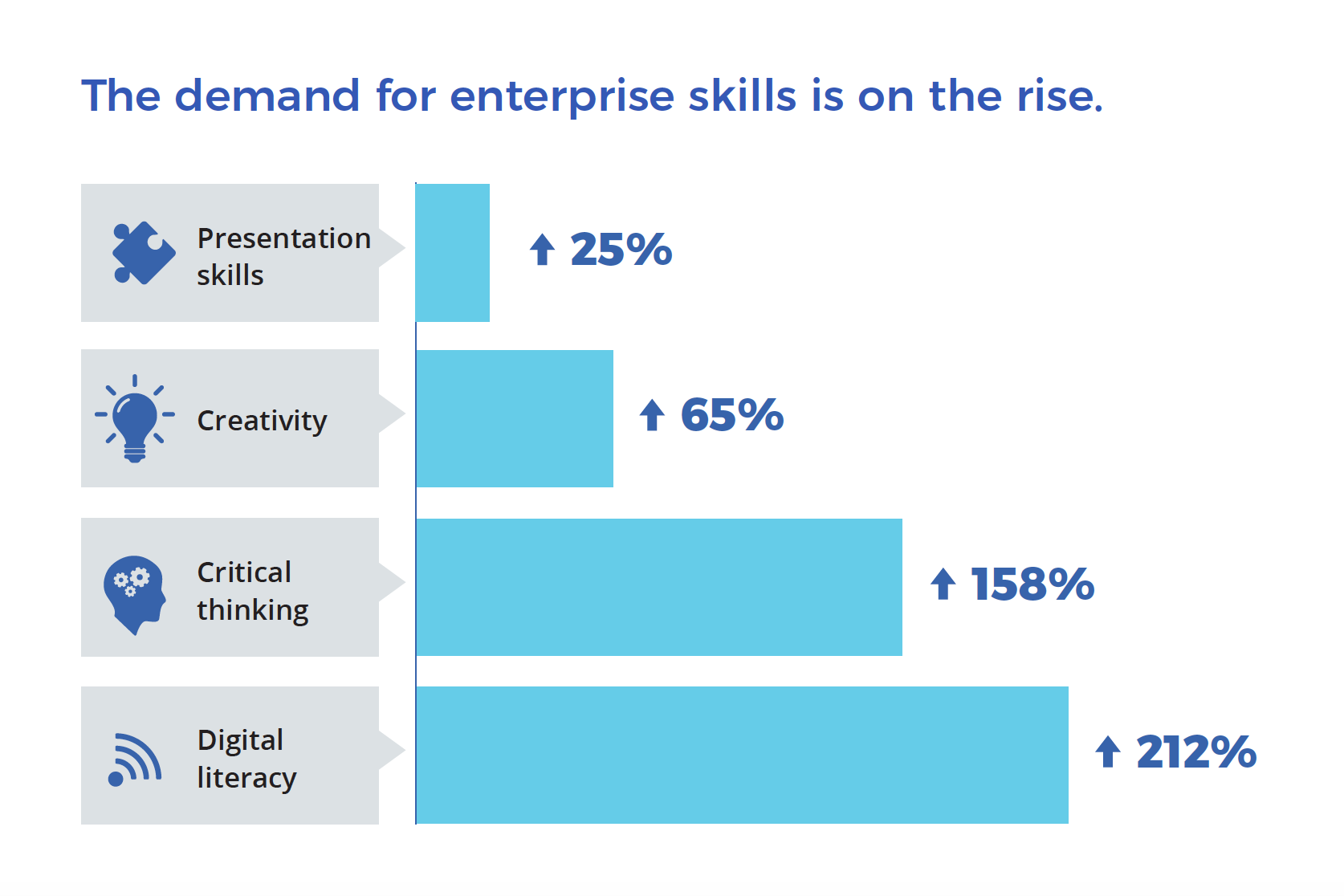 United Kingdom
UKCES recommend a "Focus on development of key skills and attributes that will be at a premium in future, including resilience, adaptability, resourcefulness, enterprise, cognitive skills (such as problem solving), and the core business skills for project based employment."5
India
These areas are identified as growth areas: Education, healthcare, tourism, transport and storage enterprises have significant growth potential, creating 3-3.5 million jobs a year, in comparison to the 0.5-1 million jobs currently.6
These skills are increasingly important:
Humanistic, Communication, and Creativity skills will become more valuable, especially in the service sectors.
Digital Literacy alone will not be enough. Digital Fluency will be crucial.
Data Science skills will be critical for seizing digital economy opportunities
Learnability will be one of the most essential employability skills in the near future.
Data scientists will increasingly be required to have creative visualisation and storytelling skills.7
What all these publications emphasise is the critical importance of being self-directed and lifelong learners. So, considering what pro-active steps you can take to up-skill, re-skill, and generally develop and strengthen your professional experience and expertise is likely to be a valuable investment.
Here's a few key questions/suggestions that may help you in this process:
Do I have any knowledge, skills, expertise or experience that I am not fully utilising and which I could usefully develop and strengthen? How will I do this?
Are their 'critical gaps' that will hinder me in the future world of work and if so, what can I do to address these?
What new areas could I explore, and be learning in a self-directed way?
Am I keeping a record of my learning and experience both to encourage me as I make progress and as a ready reference for applications and interviews etc.?
What have I done / learnt / experienced that I can craft into examples and demonstration of softer skills e.g. critical thinking, emotional intelligence, creative problem solving, storytelling, adaptability, resilience?
How can I represent my self directed learning in my resume / CV to show future educators / employers that I am a lifelong learner?
And of course, re-visiting your Birkman data will be key to reminding you of your motivations, passions and potential for shifting to a different role and contribution either in your current context or a new one.
You can contact us at support@elaura.com if you would like to book a Career Conversation with one of our consultants (fee will apply).
1Skills Framework for ICT for Singapore's Budding Data Scientists, Cyber Risk Analysts, Companies and More, Ministry of Communications and Information, 10 November 2017
2NUS Future Ready Report 2017
3FYA: The New Work Order Report Series, 2017
4UKCES The Future of Work, Jobs and Skills in 2030
5Skills for Future: Jobs Technology And The Future Of Work In India Quest Alliance, 2017